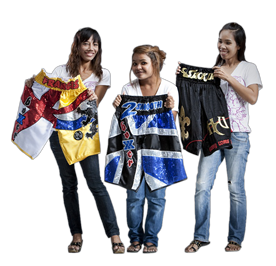 Please read our HOW TO ORDER page before getting in touch about Custom gear. Submitting an Order Form is the easiest way of getting a retail quote as it includes all the information we need.
You can also add us on http://www.facebook.com/boxxerworldpage
Our Factory Outlet store is located just north of Chalong Circle, about 200 metres from Home Pro Village on the opposite side of the road. We are open from 9am till 8pm on week days and 10 am till 5 pm on Saturdays.
We offer a same day motorbike delivery service to your bungalow or gym for 300 THB (for products that we have in stock). Please be sure to be on time for appointments are our staff will not be able to wait.